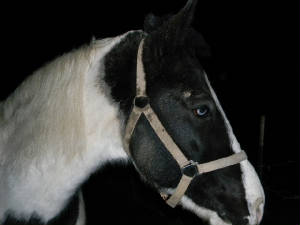 Chance was born on March 23,2005. I have done most of his training and I will continue to do his training. I have raised him since he 'PLOPPED" out on the ground.... Well maybe not that early... Cotton had a helping "hoof" in that part. I wasn't there at the exact moment he was born, but I was there the day after.
Parking Out. We had some problems here. He didn't want to stand still, or he would stand still but wouldn't plant his feet in the right spot to make it look good. We did this for several hours. He has finally gotten the grasp of the concept of Parking Out now. Now he can just about do it by himself. He still needs some help but he's getting better. I also taught him to square up too. He does that much better than parking out.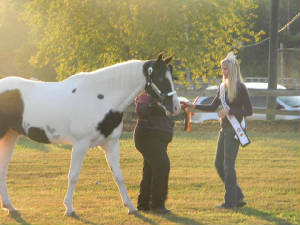 Chance's First Show- Chance's first show was on September 26,2008. He did really well for the first time. He was a bit jumpy at the loud speaker. Of course, It had to rain, and rain means umbrellas... Well we weren't prepared for the rain and the umbrellas. I am slowly working with this issue. Once he got over the umbrellas for the night he did fine. I showed him in the beginner's class, where we took 2nd Place. Not Bad for a rookie. I was so proud of him. I have been riding him more, and he is doing 100% better.